The kids have been sick this week. It's the usual crud not the dreaded Noro Virus that has closed some schools and taken a toll through the region. Sore throats, to the point we had a couple tested for Strep which came back negative. Some coughing. Lots of headaches. Periodic fevers. A little nausea thrown in the mix.
It's nothing time won't cure.

Yesterday I spent the day at my parents' house. Everyone went to school for the whole day so it was my chance to escape the house and ignore my chores and household duties. My mom and I worked on our scrapbooks. I'm working on 2011. Ignore the fact that I haven't done Togo yet. Or any of India but for the initial trip we took to the northern Triangle of Agra, Delhi and Jaipur. I have our time in Jordan to catch up with that. It's what I keep telling myself. Don't burst my bubble with tales of how much we'll do and see there that I'll simply fall further behind, OK?
So I caught up a bit by finishing our trip to Chicago/Milwaukee/Madison from last summer. That was a good road trip, I just wish I had photos from Rebecca's trip to Colorado at the same time that I could use to fill in the gap... all those photos of our family minus one look weird.
Today was a day for Nicholas. I'm not sure how that happened other than, well, he asked. I was going to the mall to get my watches fixed, he wanted to come along and asked for lunch out. Who can resist a kid who wants one-on-one time with mom. As we prepared to leave, Ian asked to join so it became Nicholas and parents for the afternoon. It wasn't all fun and games.
The mall has shoe stores and Ian remembered he needed shoes. Rack Room Shoes had BOGO1/2. We both found pairs in the 70% Timberland sale shelves. Four pairs of shoes later I picked up my watch, we did a quick run through Costco, then brought Nicholas to his requested lunch spot, Buffalo Wild Wings. Not our first choice, but it was what he wanted for they have the at-table game machines for trivia and poker. It was all good, we enjoyed the time with him.
My watches are both Citizen Eco-Drive. The first I received as a gift from Ian while living in the Philippines.
life, there's definitely something wrong with mine as it doesn't keep time more than a few hours, never mind whether it's been in the sun all day or not. Initially I thought the issue was all the sweaters I wear. Seriously! If the watch is hidden under a long sleeve all day it could be a problem, right? Not really. As soon as we walked into the watch shop the lady questioned the capacitor. I don't know what a capacitor is, but when she heard the watch is nearly 8 years old she's fairly confident that's the problem. Since I'm clueless, I'll go along with it, so off to the technician it goes for a couple weeks and we'll see what happens. I like this watch, I want it back.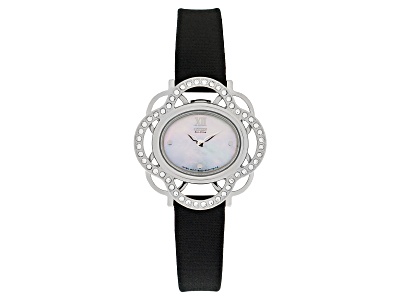 My other watch is a lovely design that I honestly would never have chosen for myself.
Another gift from Ian, one from our time in India. I think it's the band that has bothered me about it, and today I remedied that, out of necessity of course. The band was separating and though it was easily repaired I took the opportunity to exchange it for a dual-tone bracelet band, something that works with my rings and won't get eaten by whatever it is my skin exudes on hot sweaty days.
I know many people don't even bother with watches anymore. My husband doesn't, he simply relies on his phone for the time, and everything else during his day. But I'm a hanger-on. Yes I own a laptop and an iPhone, but I still don't like change, I don't like technology, I don't like new things even if they've proven to be true wonders. I make notes on paper, I like to write letters that go through the postal service.
So I wear a watch. A cool eco-drive watch that runs on sun power, but a watch none-the-less. And I'll keep wearing one until they aren't made anymore.