It's become clear that all the moaning I did about the weather in Istanbul last week was unwarranted. Look at Istanbul now: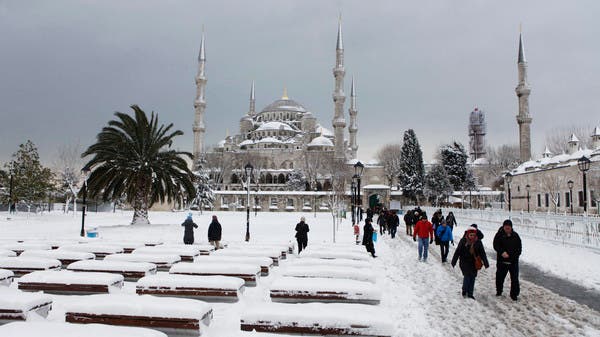 Last week today, we were standing right there. It may have been cloudy and rainy, but it didn't shut down the airport at all and I didn't fear slipping my way down cobblestone streets. Thank you Weather Gods. Though admittedly my photos would have turned out prettier with snow instead of gray haze.
While in Istanbul we ate quite well. TripAdvisor is a wonderful thing as we discovered that three of the highest rated restaurants in Istanbul were next door or across from our hotel.
Seriously. I want to eat from these dishes All The Time. Who wouldn't?? The restaurant is the Babylonia Garden and Terrace (#31) and had a fireplace. Unfortunately the fireplace was right by the door, so the warmth was regularly replaced with a draft.
And what was under the cover was just as wonderful as the dish. Chicken over pureed eggplant.
TripAdvisor recommended the pumpkin desert. I do not. Chunks of raw pumpkin, frozen, and soaked in a sweetener with pistachio crumbles, along with a tahini sauce and a molasses sauce. Unless that sounds awesome to you, give it a pass.
Wandering the streets one day, we bought a bagel-like bread spread with Nutella. Nutella makes everything delicious.
That night we ate off more beautiful dishes with great food. Albura Kathisma (#66) had mood lightening and an awesome selection of seafood. My meal of monk fish and Ian's of giant prawns...
Our friends went for the house specialty, a meal cooked in a clay pot over a fire, broken open and served right at the table.
With, of course, dessert of chocolate souffle and ice cream. Because even though I couldn't finish my pile of monk fish, there's always room for dessert.
What really makes the restaurant great is that, like Amman, you can't dig anywhere in Istanbul without hitting ancient ruins.
Part of the restaurant has a glass floor....
...and the ruins are remarkable. It's a slow process unearthing the rooms and arches, but worth seeing if you have the opportunity to pop down for a visit.